A what???  A Kiva Loan!
Kiva is an international non-profit, founded in 2005 and based in San Francisco, with a mission to connect people all over the world and through lending – not charity – to alleviate poverty.
I am very much a believer in giving to people who are working to manifest a better and brighter existence for themselves and their families – and that's exactly what Kiva is all about.
…and so today, when I had an unexpected new client land in my lap, I decided to give back – and to check a couple of things off my bucket list!  A Kiva loan and sponsoring a retired working horse (more on the latter in a separate post).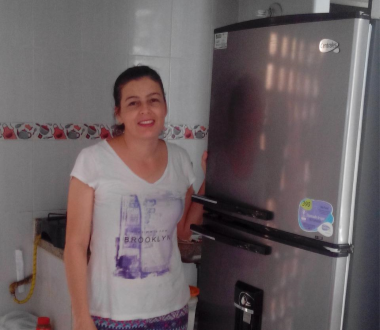 Rosalinda is 42 years old and a housewife that lives with her family in the municipality of Barranquilla. She wanted to generate her own income and to support her spouse by selling products to her neighbours and friends.
She started her sales of products three years ago and she today offers a broad variety of products: cold meats, footwear, clothing and other requests from her customers. Rosalinda was looking for financial support for a total of only $350 USD so she can accept more orders from her customers, currently she is often in the position that she is unable to make the necessary purchases.
The loan she asked for will be used to buy cold meats such as ham, local types of sausages and other requests made by her customers.
The Kiva loan is managed locally by a non-profit organization in northern Colombia dedicated to developing programs for the country's poorest communities. In addition to numerous social services, the non-profit runs a micro-finance program to strengthen micro-businesses in the areas where it works; as well as offering several non-financial components as part of this program, including training to help entrepreneurs start their own businesses.
To learn more about Kiva, you can go to www.Kiva.org.
~ Bella