I have read and re-read this book several times since I picked it up, and each time I learn something different, or see something in another light.
Here's the info from Amazon:
"Drawing on Zen philosophy and his expertise in the martial art of aikido, bestselling author Gorge Leonard shows how the process of mastery can help us attain a higher level of excellence and a deeper sense of satisfaction and fulfillment in our daily lives. Whether you're seeking to improve your career or your intimate relationships, increase self-esteem or create harmony within yourself, this inspiring prescriptive guide will help you master anything you choose and achive success in all areas of your life.
In Mastery, you'll discover: The 5 Essential Keys to Mastery Tools for Mastery How to Master Your Athletic Potential The 3 Personality Types That Are Obstacles to Mastery How to Avoid Pitfalls Along the Path . . . and more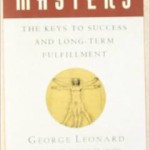 You can purchase the book here:  https://www.amazon.com/Mastery-Keys-Success-Long-Term-Fulfillment/dp/0452267560/ref=as_sl_pc_ss_til?tag=achievement0f-20&linkCode=w01&linkId=IYYGL22VKNTDX3BQ&creativeASIN=0452267560
You can also watch the video on Amazon Prime based on the book – it's amazing!
https://www.amazon.com/The-Keys-Mastery-B-B-King/dp/B00HJM1WQ8/ref=as_sl_pc_ss_til?tag=achievement0f-20&linkCode=w01&linkId=6GGGV6XZBWYZGDUQ&creativeASIN=B00HJM1WQ8